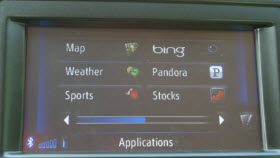 Trying to get a phone connected to the system can be frustrating -- or futile.
The Entune system in new Toyota models uses applications to provide connected features and services to drivers, including Bing for Web-enabled local search, the ability to book a restaurant through OpenTable and to see what's playing at the local cinema, and even buy tickets for the next show via MovieTickets.com.
As with most other automotive systems of this type, Entune also allows access to Pandora Internet radio for an almost limitless source of tunes tailored to the driver's taste. But my experience with Pandora by way of the Entune system has been less than positive; I've always had trouble getting my iPhone 4 to connect with the system. It recently happened, yet again, in a 2012 Prius V.
As you can see in the video below, playing Pandora through a wireless Bluetooth connection worked perfectly, although access to Pandora features such as playlists and thumb-up/-down are available only on the device. But I couldn't get my iPhone to connect to the system, and regardless the entire process is too convoluted.
Pandora through the Entune system in a 2012 Toyota Prius V, Part 1 - YouTube
I thought perhaps my login and password were incorrect, or had expired, so I called a Toyota PR rep to use his information instead ... but I still wasn't able to connect my iPhone.
Pandora through the Entune System in a 2012 Toyota Prius V, Part 2 - YouTube
Finally, I was advised to try using a USB-cable connection. At first I thought that would do it ... but again, no luck.
Pandora through the Entune System in a 2012 Toyota Prius V, Part 3 - YouTube
This is not the first time this has happened. I can think of at least three different Toyota vehicles I've tested in which I've experienced this same problem. Maybe this is a first-generation issue with Entune. And, to be fair, all automakers are at a disadvantage in terms of compatibility when dealing with so many different portable devices.
That being said, it needs to be better than this. Thank goodness you can at least always use Bluetooth audio.
Tech Feature Spotlight: Toyota Prius V Pandora Problems - MSN Autos